I was so honored to meet Tobi Fairley on Facebook and get introduced to her fabulous design portfolio. And now I can say loudly that Tobi might be the most talented designer ever! I mean her portfolio is absolutely perfect to me, the way she's using colors and patterns, so much to learn from her!!! The moment I felt admiration for Tobi was when researching for my yesterday's post about emerald green, as an inspiring picture I found one from Tobi's portfolio and then I fell in love with her and her designs. Words can't tell you how big is my respect for Tobi Fairley, she studied accounting, she has a degree from Sam M. Walton College of Business and also in interior design and she was called one of the Top 20 Young Designers in America for 2009 by Traditional Home magazine! Wow, that's a nice biography, isn't it? I can just thank Tobi for creating all the designs, sharing them with us and being a great source of inspiration!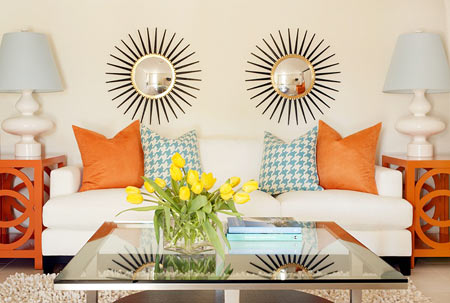 *all images via Tobi Fairley Portfolio
Tulips, beautiful patterns, blue-orange-red-white and so many other colors – that is Tobi Fairley! And I definitely LOVE her! No joke! Love and admire her designer skills!
What do you think about Tobi's portfolio?