Well hello again, lovelies! Perhaps you're wondering what is with the title of this blog post? I'll tell you, but first let me explain myself a bit :). Every day I come across breathtaking pictures of gorgeous interiors, whether created by well-known designers, by fellow bloggers or sweet readers. Very often those pictures make me be in awe and I can't stop feeling happy to spot the amazing result of somebody's work. Only that I wasn't sharing my finds with anybody, so since I'm loving you all so much, from today, everyday I'll post on creamylife one picture that made my day, one picture which took my breath away and made my heart dance. Let me know if you like the idea and of course, if you'd enjoy to see daily a favorite image of mine :).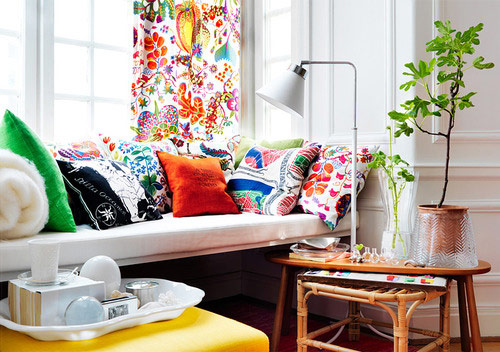 Today, I'm smitten by this picture. The bright colors always make me happy. The somehow matching cushions and curtains are no coincidence, but a fantastic detail which makes this room a happy nook where you only miss your stack of magazines to say that "life is good!". The crispy lamp & walls however make a contrast and are only making the room be more modern and chic. That yellow pouf is not only adorable, but also functional and will work just perfect as a coffee table. Altogether, this room is dreamy and is going to my inspirational files for my future home!
What do you think about it?