Margaret Donaldson is a Charleston based interior designer running her firm since 1988 and she has a very unique and warm style. I think if I'd need to make up a list of my favorite designers, Margaret would be a part of it! The rooms that result from Margaret's talent are inviting and very attractive, with a play of colors, patterns and fabrics, the variety of styles used altogether are layered perfectly well and aren't clumsy or overwhelming, instead it's that eye-candy we all seek for our homes. One thing I noticed while looking through Margaret Donaldson's portfolio and this is the oriental rug used in most of the rooms, even bathroom! The effect this detail has on a room's look is stunning and if you have an oriental rug – you have a gorgeous room!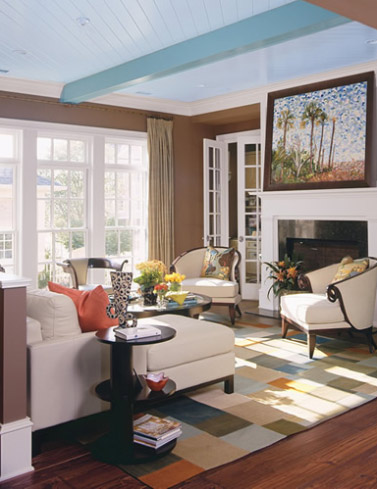 *images via Margaret Donaldson Interiors
These spaces are modern yet classic and very charming, aren't they? The wood tall headboard from above is another catchy detail and oh, it's so amazing! What do you think about this? Would you invite Margaret to design your home?
P.S. No Everyday fabulous post today. Look for it tomorrow morning :). See you tomorrow! xo