Hello, friends! First of all, I'd like to thank you all for the kind comments you're leaving on creamylife, I can't even start describing what do they mean to me and how much I appreciate you for taking the time to write them! I read all of them and every single of them makes me ultra-happy! Huge thank you!
Now I want to share with you a moment of happiness, some days ago I got the first reader's question! Theodora asked for some advice on how to decorate her bedroom, which will be cream, purple & golden (three golden walls+one purple, cream window borders, brown furniture and so on). After reading Theodora's bedroom description I imagined that already having lots of golden, the bedroom should have a cream ceiling, to brighten up the room and purple accessories, such as drapes, lamps and flowers, for example – for the perfect amount of simplicity yet chicness. I made up an inspiration board which will show what I mean: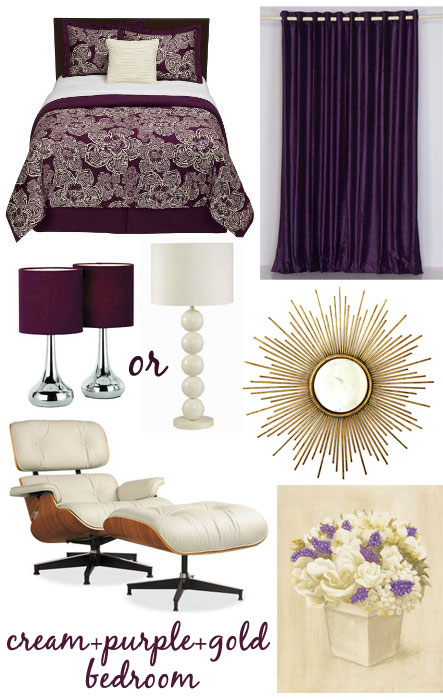 Theodora chose the bedding (it's from Target), so I figured that the focal point in this bedroom should be everything purple, so these heavy, ceiling to floor drapes will add some royal feeling to the entire space. The sunburst mirror will look amazing on the purple wall, creating a glamorous, modern feeling. Purple means royalty as I already mentioned, so there is no need of too much golden details, as you don't want to make your room too sophisticated. An Eames lounge chair and ottoman in cream will work as the ceiling, lightening a bit the atmosphere and being the perfect touch of classicism. Purple or cream bedside lamps are up to you, I'd go with the cream one, they'd make a pretty contrast with the bedding.
Here are couple more bedrooms decorated in cream, purple & gold: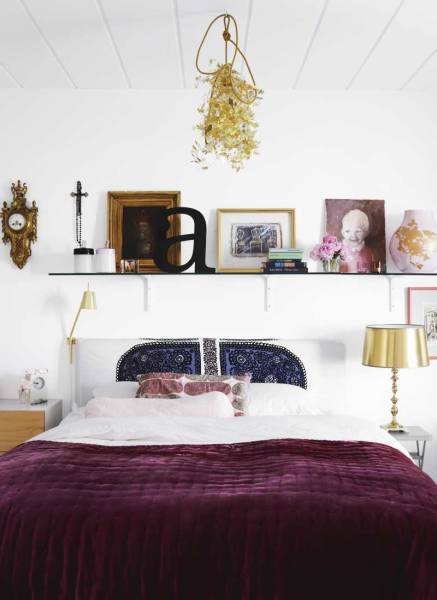 Theodora also has one large dark brown bookcase and she'd like to keep it and the bed is dark brown as well.  But also she has a black desk and black dresser, so she asked me what to do: paint the desk and dresser with a brown paint or buy new pieces. My advice is to paint the desk & dresser and have only brown furniture as this will add warmth and an inviting feeling to the bedroom (+ painting instead of buying means saving some $).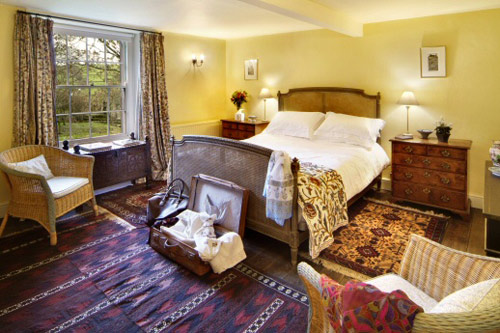 The picture above shows a more of a country bedroom which is still decorated with our main colors. And as you see, the honey brown side tables, that are also dressers, work really well with the golden walls and the white ceiling.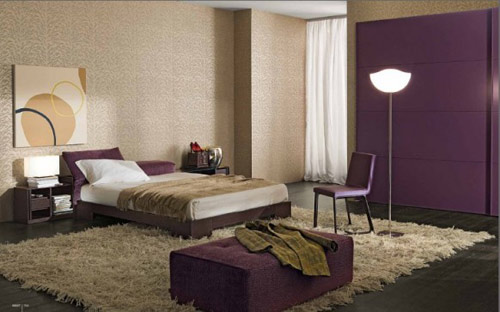 A good idea is to make the purple wall as an accent wall, because everything which is lighter in color than this will look so fresh against it, like the rug in the above image, I say this is quite a pretty balance.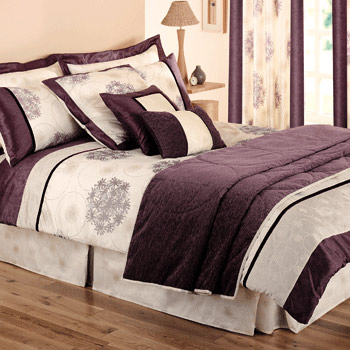 In the above picture I liked the curtains, so if you don't want to go with heavy purple drapes in your bedroom, then light cream ones, with purple flowers will do the trick.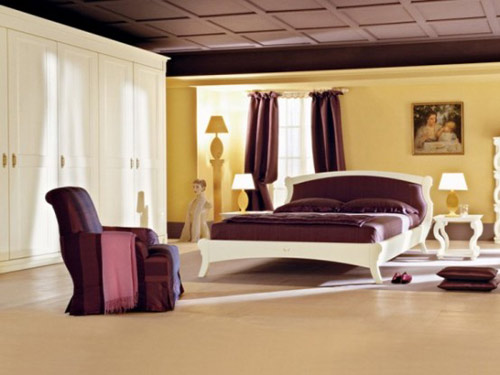 This last picture speaks about a different option of decorating the bedroom: purple ceiling, cream closet, white side tables and golden lamps – a bit dramatic look, but not less stylish!
My image of Theodora's bedroom is a light space, with purple accents to bring on some elegance, golden and brown details which altogether will create a glam yet warm and inviting place – just as a bedroom should be!
What do you, ladies and gents, think about this? Maybe you have any other suggestions for Theodora?