Hello, everyone! I know, Mad Men is most likely not new for you, but believe it or not, I just started watching it (living in Europe leads to this kind of consequences). I'm at first season and slowly catching up with all the episodes, hoping that one day I can proudly say that I'm in a row with everybody. And being a new fan of this series, I couldn't avoid having my eyes on the fabulous cast (of course), their outfits, but most of all on the decoration seen in Mad Men. That 60's feeling is taking my breath away, leaves me in awe and never ceases to inspire me! From both graphic and floral wallpapers to tufted pieces to earthy colors Mad Men has a special charm to it, something that will take you to that era and you'll end up digging retro interiors like never before (that's what happened to me). So now, please enjoy a few pictures of the Mad Men interiors:
P.S. Happened the second time to me when I got crazy about interiors seen in a movie or series: first was Julia's kitchen (Julie & Julia) and now this. Just wondering what's next :)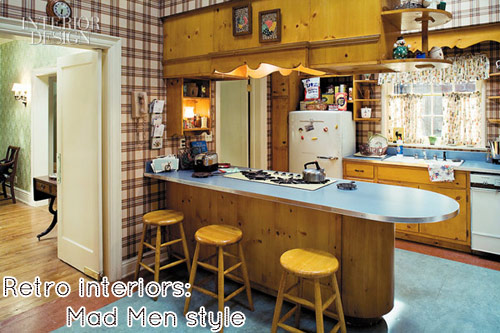 This is Drapers' kitchen. Their home is decorated in a Colonial revival style and that plaid wallpaper is a great proof.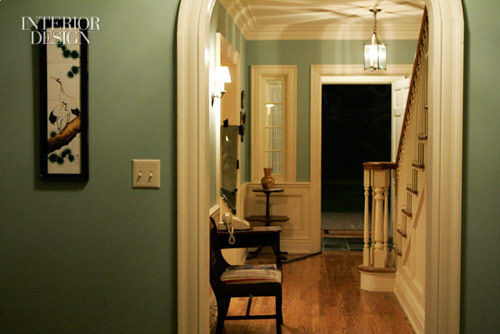 Drapers' entryway and I'm smitten by this seafoam color paired with white – doesn't this shout style and coziness?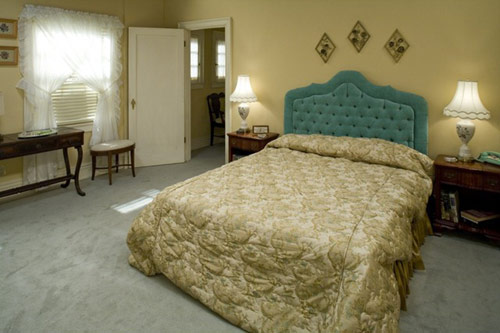 Don and Betty Draper bedroom. The tufted headboard makes for a pretty and calming popping color and it's actually wisely paired with the phone on the side table.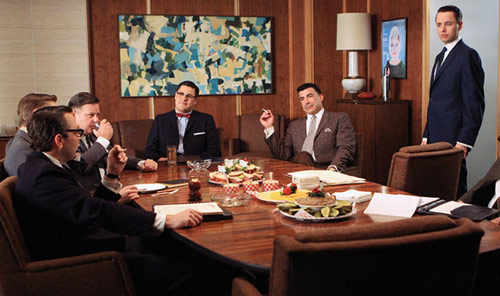 Sterling Cooper office – the most traditional space, decorated with lots of wood, neutral sofas and retro furniture. But then there are details which bring touches of eclectic and some colors here and there, like the painting in the above image – another popping detail to break a little this traditional look.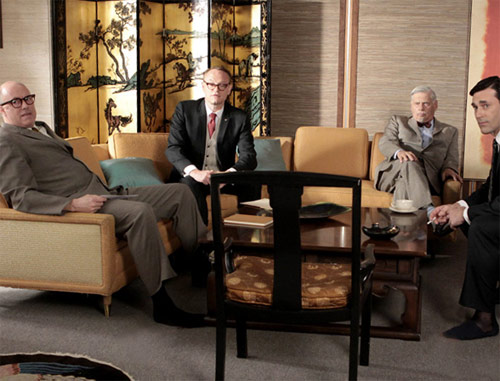 That wall divider definitely doesn't have the role it would have if placed in a bedroom, but a sure thing is that it adds more charm to the office.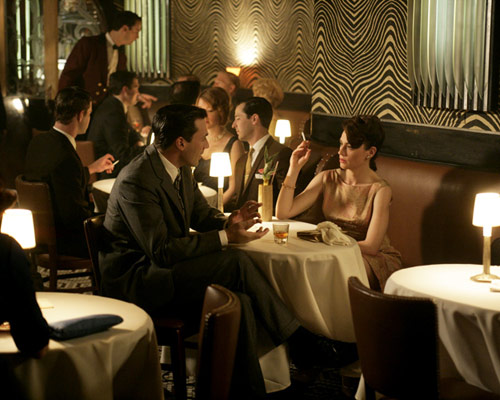 Why I loved this picture is because it has zebra print on it and I'm in love with it!
*image sources: 1, 2, 3, 4, 5, 6
I hope you liked my Mad Men inspired post. I'd undoubtedly love to live in that period, wearing those fabulous frocks and living in a stunning, classic with a modern twist home! What about you?