Hi everyone! My previous post (the first one from that series) brought so much positive feedback that I can't avoid feeling so ecstatic about bringing up the topic! Check back next week for another wonderful blogger who'll share another tips, I assure you it's something you don't want to miss out!
But let's speak about Project Udesign now, shall we? In case you don't know what this is, I'll tell you: it's a contest started by BiOH, Century Furniture, Savannah College of Art and Design (SCAD) and Ultrasuede where students of SCAD were given a task to design eco-friendly wing chairs (made of soy-based foam and upholstery made with recycled materials). From 15 designs at the beginning of the contest, there are now 3 finalists you can vote for, according to the design you like (you can do it on Facebook). The good thing about this furniture is not only that is eco-friendly, but it's totally modern and stylish and would look gorgeous in any room! I have my favorite, it's the Buncombe wing chair (which I voted for) and I put together a mood board that shows off its edgy style and functionality!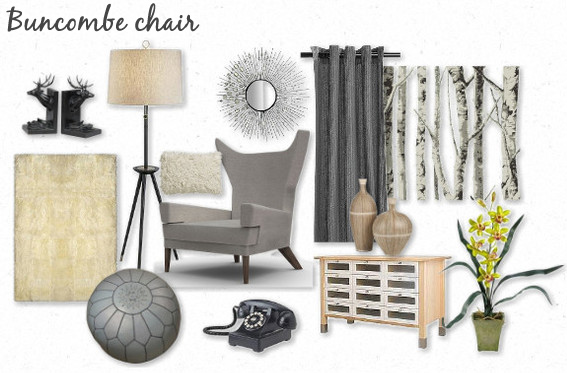 *mood board created in Olioboard
In my vision, Buncombe wing chair is meant to live in a library or even a living room, where you have your reading nook. I thought it goes wonderful with gray (of course) and beige accessories. As you know, imo gray is the image of style and modernism, so this wing chair might just land on my wish list!
What do you think about Project UDesign? Did you pick a favorite wing chair yet?