No surprise that recently Pantone named the color of the new year and this is Honeysuckle! This is a reddish-pink shade, something in between fuchsia and pink. I love everything pink, from soft pale to hot pink to fuchsia – I'll take it all (if you have doubts, check this post and this, this, this, this and this :D). Here's what honeysuckle looks like: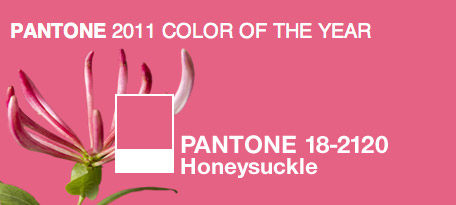 Long before Pantone called Honeysuckle the color of 2011, designers were feeling the trend without even knowing about the great importance this pink will have the forthcoming year. One of those designers is Grant K. Gibson. The teenage-girl bedroom he designed a few months back for Elle Decor showroom is in this gorgeous color (honeysuckle, that is). Little did he know he'll be a trend setter. The wallcovering is to die for and all the pink details are sure to make you drool! And me too. Here is the famous and all the way stunning bedroom:
The pink "Keep calm and carry on" poster in the bathroom cracks me up, I think I want a similar one in our bathroom (wondering was would the husband say).
What do you think about this bedroom particularly and about honeysuckle color in general? Will you look at it (more than you ever looked at pink!) as a color for your home this year?