Welcome to a new week, friends! Hope your weekend was relaxing and now you're ready to face a Monday, Serbian Monday here on creamylife. As it became a tradition, with another Monday we get to meet another Serbian creative and talented mind and this time is about somebody very special, my dear friend Marija! Marija Djordjevic is an interior designer and furniture creator, who studied and lived in Canada and now she is in Belgrade, trying to manage the multitude of design projects she has and her love for creating furniture (her crazy busy schedule makes it quite complicated, but she's doing great, if I say so myself). I need to mention that the furniture created by Marija can be found at Supermarket Concept store (dreamy place! I'll write another post about it soon), so if you're local, go and take a look! Also you can visit her Facebook page for updates.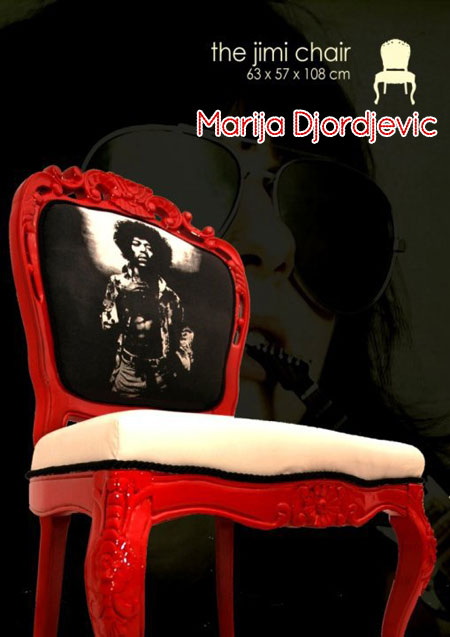 The famous Jimi chair, which is probably the symbol of Marija Djordjevic!
And in her "free" time Marija is doing cross-stitching. I wonder when this free time is happening?
*images via Marija Djordjevic
The funky, rock'n'roll-ish (I just invented this word) style is the best what describes Marija's work and that's exactly what makes the furniture so unique. A chair like Jimi would be a fantastic popping detail in a room and would be amazing to have it (no need to sit on it, just to have it!). I'm proud to know Marija, even more now, after we found out she's featured in the fall issue of Serbian Elle Dekor! How cool are my friends? Anyway, hope you liked her fabulous work!