Hello all! I've been thinking lately that I didn't show some Etsy love here on creamylife, but this doesn't mean that I stopped checking regularly Etsy shops, being inspired by the lovely handmade items and amazed by the huge talents out there. So now is the perfect moment to do it, even more because the owner of an adorable shop contacted me and kindly suggested that I take a look at her Etsy wonderland, Floreal shop. Ruchi does pretty jewelry from polymer clay, mixing and matching colors and shapes to create as she says "wearable art". Although Ruchi is not a professional jeweler, she designs fabulous earrings, necklaces, brooches and more which are so much fun, but what's the most important her jewelry is looking amazing (and she has couple necklaces that are PERFECT for fall wardrobe, you'll see below)!
I simply adore this necklace! The colors, the patterns – bliss!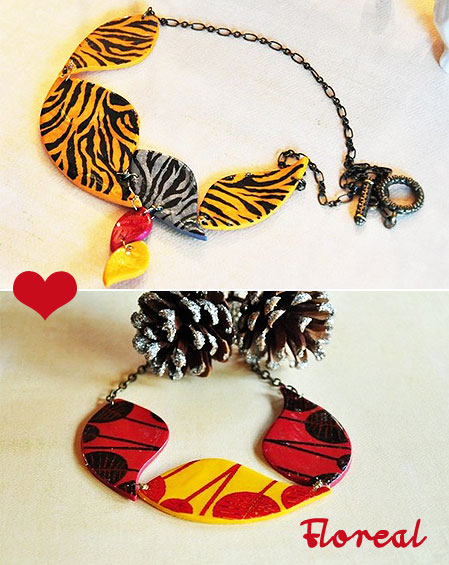 *images via Floreal
Oh well, what do you think about Ruchi's shop? Isn't it such a fantastic eye-candy?
Thanks to Ruchi for introducing me to her store, it's definitely a must-see for fashionistas!