Hi, friends! Today I'm really excited to have over a darling girl, my favorite Aussie Dana of
yellowtrace
with a
'blogger to blogger'
post! Dana is not only an inspiring person, always with fresh ideas and great finds, her home is blissful (blogged about it
here
) AND she's actually Serbian! Well, you know the story, a few months ago Dana sent me an email introducing herself and ever since I was admiring her every day! I'm very thrilled to have her here today!

"Hello everyone. My name is Dana – I'm an interior designer and the author of the yellowtrace blog. Before I begin, I would like to thank gorgeous Ludmila for inviting me to be part of this great series. I am honoured to be able to share a few blogging tips with you. There is so much I could say on this topic, but in the interest of not "taking too much", I have decided to focus on what I think makes a successful blog.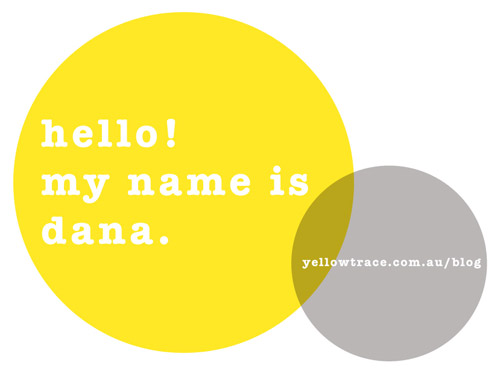 1. You'll hear everyone say it and it's true – Content is king. Original content with a point of difference is extremely important, and that could be a number of things – the obvious one is the way you write, how your blog looks, the way you lay out the images – you may choose to only post images and no words, but perhaps the images can tell the story on your behalf.
2. Also important are things like consistency in content and quality of posts.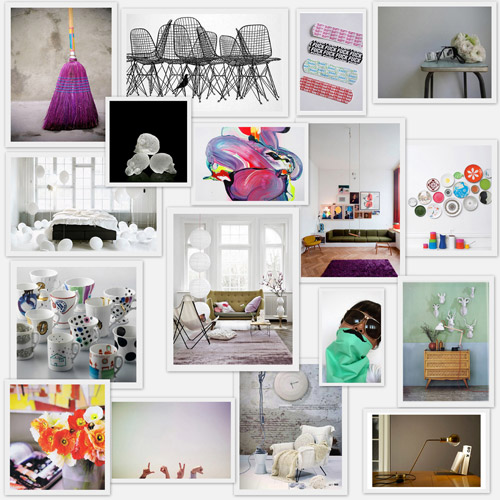 3. Ideally you would post on regular basis – the more frequently you post, the more readers you will attract (but this will also depend on the quality and originality of your posts). Other than that, I don't really think there are too many rules when it comes to blogging.
4. The most important thing is that your blog is authentic and an extension of who you are.
5. You also need to decide onthe purpose of your blog– is it quite personal, or entirely professional, or somewhere in between, as this will set the language and the tone, and also help you decided what sorts of things you might want to write about. Again, there is no right or wrong. The right way to do it is what you are comfortable with.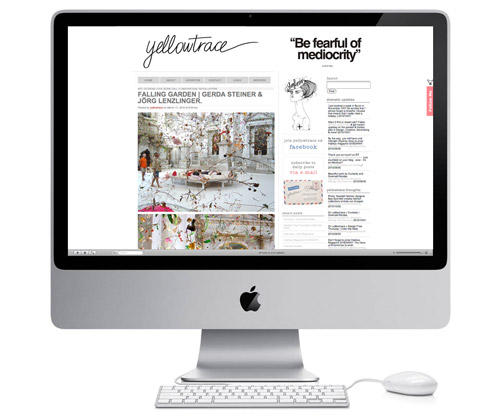 6. And just remember that you can't be everything to everyone, so stick to your "truth" and let it guide you along the way.
yellowtrace
blog started as a little hobby 9 months ago and it quickly gained local and international readership, which really made me think about the sorts of things I wanted to feature on the site. At first, it was all about me cataloguing my discoveries and experiences, and now it is much more about
making it relevant, engaging, fresh, inspiring and fun for my readers
. 
I post every day, Monday to Friday, and
make an effort to plan my content for the week ahead
. Although blogging is all about being on-trend, super current and immediate,
I believe in keeping a good balance with my content week to week
. I choose not to get swept up by the hype of the latest and greatest, and just
focus on what I consider to be the best and most inspiring work in various genres I cover
, regardless of how current it may be. At the same time, original content is extremely important to me and
I make a conscious effort to ensure that I never simply re-blog from other blogs
."

Thank you, lovely Dana! This post brought some new concepts regarding blogging and it's a great addition to this
series
!
What do you, guys, think? Do you agree with what Dana said? Maybe you can add something else?
*image sources: first banner by Ludmila for creamylife, all the others by Dana of yellowtrace