And Eddie Ross did it again! With Jaithan Kochar of course. Their Thanksgiving table setting in the latest Lonny is gorgeous and I literally gasped when that stunner was in my eyes. Decorated with cobalt blue, gold and orange the table was perfect: glamorous yet cozy, modern yet rustic. Oh Eddie, what have you done? The Thanksgiving table will always stay in my heart as the image of a magic holiday, inspiring me to take out my most precious china, use my embroidered tablecloth and add hints of gold to ANY table setting, not only festive ones! I know this post could go as Thanksgiving inspiration, but I thought emphasizing the amazing color combination is just a must for a color enthusiast like me :). Cobalt blue, gold and orange is equal to bliss in my book (thanks to Eddie for this, before I never thought about these three colors together)!
And here's a sort of 'make it yourself' Eddie Ross inspired table setting: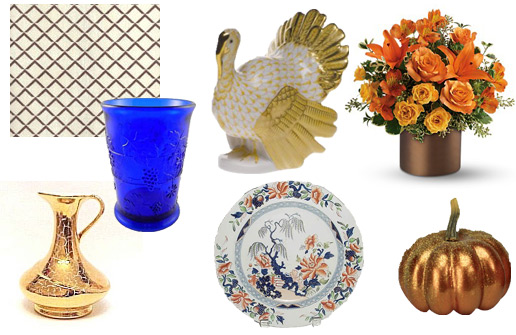 Sure this table scape would be perfect for any occasion (minus the turkey and pumpkins :D), but Eddie nailed it to perfection – Thanksgiving bliss!
How are you celebrating this holiday? Any tips how to set the table, what colors to go with or styles? Do share!
Thanks to Eddie and Jaithan for the major inspiration and this mesmerizing color combo!
*images 1, 2 via Lonny