Hi there! Hope you're having a great week so far, 2 more days and it's weekend! Today I'm here to tell you that I think I found out about one more talent that I have :). I like working with paper: cutting, gluing and so on. Today I tried once again myself in this and again I'm pretty satisfied! I made a Kusudama flower, based on Origami technology. I saw the tutorial on Cut out and keep and I knew I can make it! It's pretty easy, not requiring so much time and it doesn't require actually any expenses!
Here is what I got: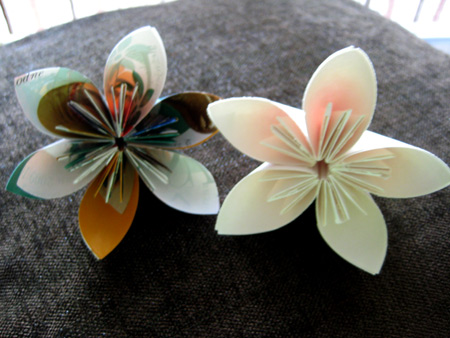 2 cute Kusudama flowers, with 5 and 6 petals, made of paper (for the 6 petals flower I used a recycled magazine and for the other one regular white paper).
I will do more, to reach a suitable number for a bouquet, but I also saw that Marianne from Noces de coton framed them, so I might do the same, it looks nice anyways!