If you're in blogland, perhaps you already saw the pictures of the gorgeous shop owned by Anna Spiro, founder of Absolutely beautiful things, Black & Spiro Unveiled. Anna did an amazing job putting together those colors & details which make the shop a stunning & dreamy place! But one thing caught my attention: the tutu desk which Anna  designed by herself for her office. Please take a look: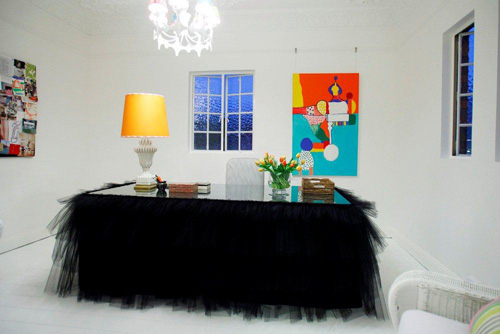 *image via Absolutely beautiful things
It's dramatic, daring and although it's black, it seems VERY passionate to me! Just look how fantastic it looks against the white walls & floor, the only things which are a little distracting are the lampshade, painting and the inspiration board, they're softening that dramatic look and are making it little cheerier. As I said, Anna DIY-ed the tutu desk, who wants to give it a try? :)
On another note, I need your feedback. Aren't these Everyday fabulous posts too overwhelming and too often? Maybe I should reduce them and post one picture every week? I'd really need to know this, so please let me know what do you think!