Hello, friends! How have you been? It's Thursday and I'm so happy to be so close to the weekend! This week has been hectic over here, I've been working on a new project the idea of which came to my mind long time ago, I was so excited about it that I wanted to accomplish it as soon as possible!
So ladies and gents, please meet my new 'baby':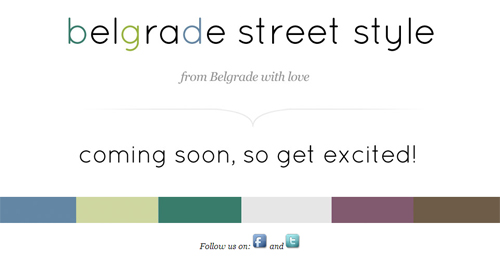 Yay, so excited! I founded The Sartorialist for Belgrade, sort of :). It's unbelievable how many people are lusting after a street style site here yet nobody seems to have time to just do it. Well, I'm the one – Belgrade street style is on its way! I was waiting for a new camera to start this site and since my awesome husband bought it for me a few days ago, we immediately started working on the site (which will be up very soon!), business cards are ready to be printed and I'm already on the hunt for stylish people on the street to shoot them :).
I must say a huge 'thank you' to my husband for his immense support and help, I wouldn't be able to do this without him! I love you, my darling!
While the site is still under construction, feel free to like us on Facebook and follow us on Twitter, for even more eye-candy, fresh ideas and outfits!
Don't be worried, friends, creamylife will still be updated every day, so no changes here :)