The first thing that came to my mind when thinking about emerald green was that it's such a deep color, not for everybody. I mean, I'm thinking myself that I'd hardly decide to paint my living room's walls in emerald. And maybe it sounds crazy, but I'm not sure I'd use this color in some decorative accessories at all! But I do like how it looks in other people's homes, reminds me of the sea and I think along with an aqua blue would make a ravishing combo! Great for a fun and fancy nursery, maybe…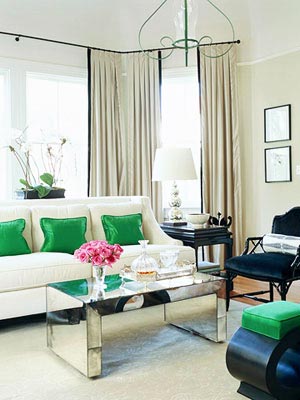 Alright, now after I posted this, my mind have changed a little! I love the emerald green room of Tobi Fairley! (picture above). So so glamorous room make the combination of emerald+gold. Thanks to golden shades emerald looks softer and totally chic! I guess I would go with a room like Tobi's.
What do you think, am I right?