Clara is the most adorable baby girl who has the coolest parents, John & Sherry of Young house love. They welcomed their baby two months ago and oh my, Clara is one precious little girl (if you check her pictures, you'll know what I mean)! And yesterday I stumbled upon Clara's nursery and was completely smitten by the chicness of that room. That space is definitely far from being an average baby girl's nursery, with lots of pink or so, instead it's a room I wouldn't mind moving in myself! A very modern and calming color palette of green & blue, a chandelier to die for, sunburst mirror and baskets for a better organizing – doesn't this sound amazing? I'm so enamored with Clara's nursery, I just knew I must share with you!
P.S. To see more pictures and the list of items used for decorating Clara's nursery, check here.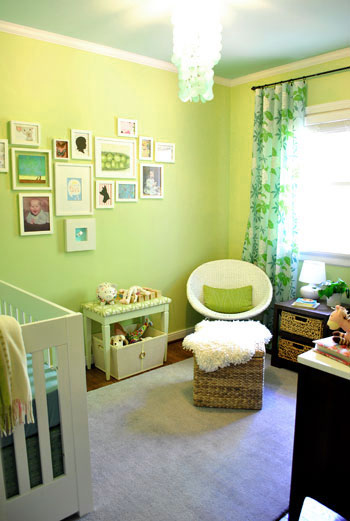 *images via Young house love
This is such a fabulous nursery, will definitely add this to my inspirational files, for future :). I literally adore every single inch of this space. Clara is one lucky baby, isn't she? What do you think, lovelies? Isn't this the most gorgeous nursery you've ever seen?