Hi everyone and happy Friday to you all! Today I want to speak about bathrooms and you know why? Because something tells me that a bathroom speaks the best about the personality of the owner of it. Being a very intimate space (maybe even more intimate than the bedroom), bathroom designs show us whether the person loves romantic & light bathrooms, with white walls and florals seen in the shower curtain, or the owner tends to have a modern, high-end bathroom, with stylish colors and accessories. Either way, I intensely think that if you show me your bathroom, I'll be able to sketch your personality and name some features you have :). No, I don't do clairvoyance, I guess here is more about analyzing, what do you think?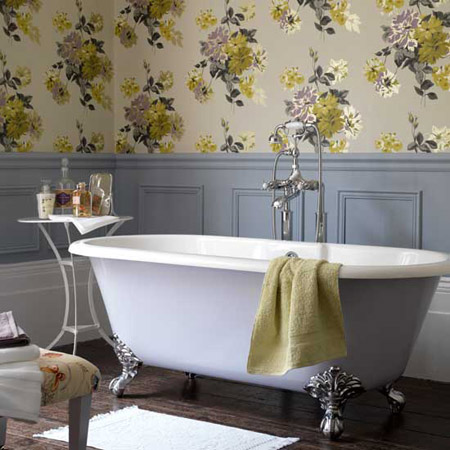 I guess in this bathroom both romantic and not so romantic people would feel comfy. This bathroom is stylish due to the gray color of the tub & panelling, being a bit soft and dreamy, because of the floral vintage-y wallpaper.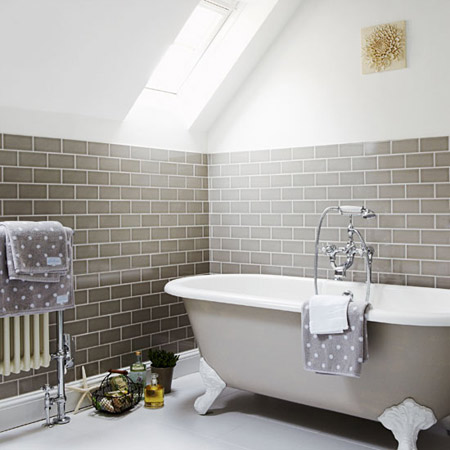 Another example of gray bathroom. This one seems to be conservative and maybe a bit cold, because of the brick decor on the walls. However the presence of the crispy white speaks about a modern mind and style.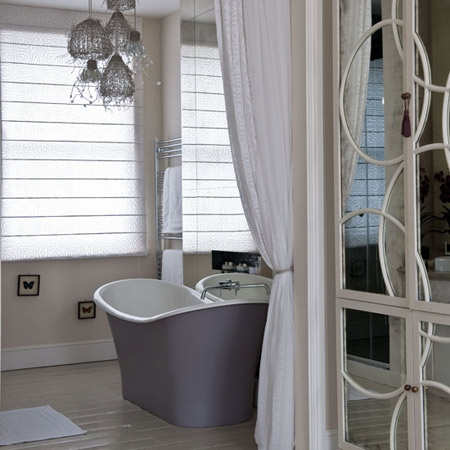 This beige bathroom with glossy metallic tub which is definitely a glamorous space smiles at me (note the chandelier!) although is definitely not my style!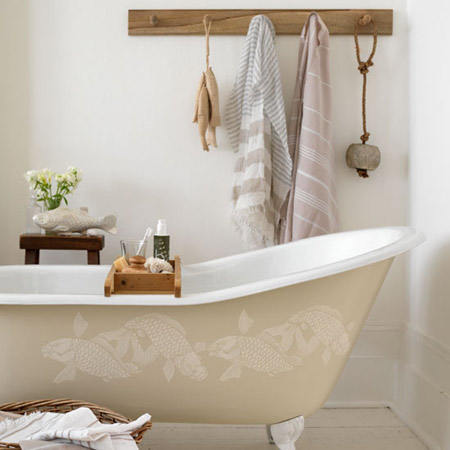 I dare to say that the owner of this warm bathroom loves fish, as seen in the decor on the tub and the figurine on the table in the background. A person who pays attention at details would live happily in this bathroom.
The two bathrooms from above are very girly, light and romantic! Who else would love a bathroom like this if not a sweet, twenty-something young lady, who dreams about her prince?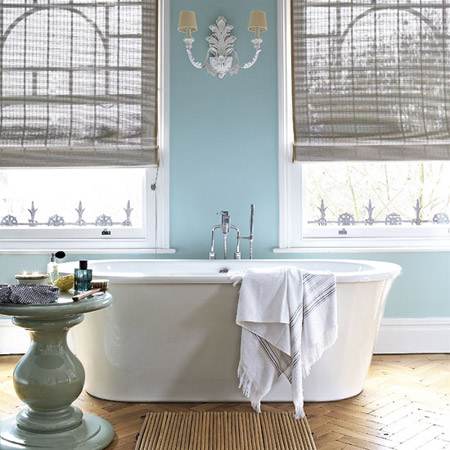 This bathroom will work perfect in a family home. It's blue, so the men in the house won't be intimidated by a girlish colors, but it's a baby blue + there is white there, the women will feel happy in here!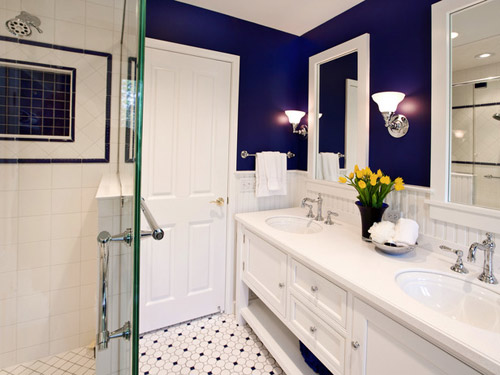 And last, a very masculine bathroom, great for a not-married guy, who I bet adores the dark color of the walls (the yellow tulips might be a bit confusing, but hey, guys like flowers as well! )
*sources: images 1-7 via House to home; image 8 via hgtv
So my lovelies, do you agree with my statement that a bathroom interacts with the owner's personality? How does your bathroom look like? Does it also speak about you?